Simpl: Responsive Grid-layout Theme for Blogspot
$29.00
Description
Description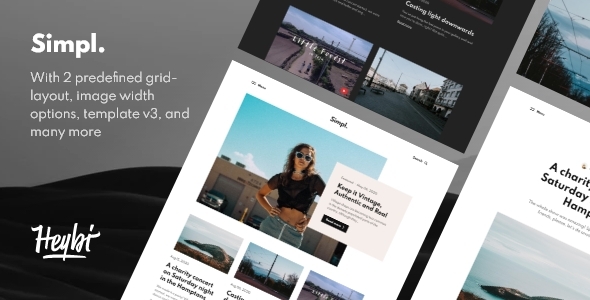 Multi pre build layouts, extensive theme customization, image width options, and many more — Simpl packs a lot of features on its clean design
Besides featuring various pre build layouts for homepage, Simpl also brings additional two image width options: wide and full-bleed. With this, you can blend images beautifully into your content at different sizes and make them more standout.
Simpl Blogger theme also offer plenty of creative freedom. Through the Theme Designer™, you'll be able to tweak many aspects of your site. This could include the color scheme, typography settings, layout options, and more. It's clean design powers a fully-flexible way to publish a stunning blog.
No matter what type of blog you're creating, using a grid layout can be a great way to present your content online. As the design of the Simpl Blogger theme is fairly neutral, you should be able to use this theme for almost any type of blog.
☞ Features:
✓ Responsive and mobile optimized layout
✓ 2 predefined grid layouts
✓ Extensive theme customization
✓ Advanced image width options
✓ Retina ready
✓ Easily share blockquote to Twitter
✓ Contact form ready
✓ Custom error page
✓ Clean, well organised layout with show/hide gadget option
✓ New comment form UI – completely redesigned
✓ This theme is based on the 3rd generation framework and layout
✓ Perfectly calibrated typography
✓ Custom sharing button
✓ Extensive documentation
✓ Enhanced YouTube video support
✓ No-image post support
☞ Note:
Source files used to create the theme are included in the file you've downloaded as well as the detailed instruction to get the theme up and running in no time.