Keima – Multicolor Ghost Blog Theme
$59.00
Description
Description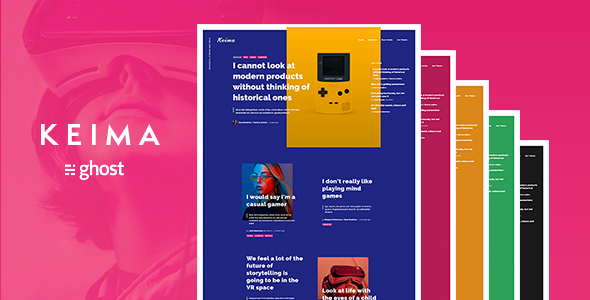 This is not a WordPress theme. Please note that we do not provide refunds for mistaken purchases.

Introduction

Keima is a creative and modern Ghost theme. Carefully designed for every creative agency, design studio, freelancer or enthusiasts of new technologies.
At fueko you can find the best premium Ghost themes that are easy-to-use, without compromising the design and code quality.
General features

Supports inbuilt Ghost features

Members & subscriptions

Payment testing

Genuine card information cannot be used in test mode. Instead, use any of the following test card numbers.
Additional theme features

Theme tested on without Members feature – Ghost adds scripts that affect the result

Credits

All photos used in the theme demo are from Unsplash
Supported Ghost All features available for the latest Ghost version (see changelog)


4.9.x, 4.8.x, 4.7.0, 4.6.x, 4.5.0, 4.4.0, 4.3.x, 4.2.x, 4.1.x, 4.0.x, 3.42.x, 3.41.x, 3.40.x, 3.39.x, 3.38.x, 3.37.x, 3.36.0, 3.35.x, 3.34.x, 3.33.0, 3.32.x, 3.31.x, 3.30.x, 3.29.x, 3.28.0, 3.27.0, 3.26.x, 3.25.0, 3.24.0, 3.23.x, 3.22.x, 3.21.x, 3.20.x, 3.19.x, 3.18.x, 3.17.x, 3.16.x, 3.15.x, 3.14.0, 3.13.x, 3.12.x, 3.11.0, 3.10.0

Changelog Compatible with Ghost 4.0.0 or later


--------------------------------
  Version 3.0.0  Mar 18th 2021
--------------------------------
∙ Added: Support for Ghost 4.0
∙ Added: Support for 'Public preview' for members posts
∙ Added: Support for new price plan helper
∙ Added: Support for 'preconnect' attribute for Google Fonts
∙ Added: default-custom.hbs template in root folder
∙ Added: YouTube Music icon
∙ Improved: The search function now sorts posts by date
∙ Improved: The search function now includes 'html' field instead 'plaintext'
∙ Improved: Moved (and renamed) members files to the '../partials/members/' folder
∙ Improved: The free plan is hidden on membership page if member is logged in
∙ Updated: English and Polish translations
∙ Updated: @site.locale helper replaces deprecated @site.lang helper
∙ Updated: clipboard.js to v2.0.8
∙ Removed: Deprecated @labs.members helper and visibility="all" parameter
∙ Small bug fixes and performance improvements

- Added files:
    partials/icons/blog/copy.hbs
    partials/icons/social/youtubemusic.hbs
    default-custom.hbs

- Changed files:
    assets/css/screen.css
    assets/js/post.js
    locales/en.json
    locales/pl.json
    partials/services/google_fonts.hbs
    partials/footer.hbs
    partials/footer_icons.hbs
    partials/loop.hbs
    partials/loop_item.hbs
    partials/header.hbs
    partials/search.hbs
    partials/slider.hbs
    custom-account.hbs
    custom-contact.hbs
    custom-membership.hbs
    custom-sign-in.hbs
    custom-sign-up.hbs
    custom-subscribe.hbs
    default.hbs
    error.hbs
    page.hbs
    post.hbs
    post_share.hbs
    package.json

- Moved and renamed files:
    partials/members_cta.hbs => partials/members/cta.hbs
    partials/members_login_panel.hbs => partials/members/login_panel.hbs
    partials/members_notifications.hbs => partials/members/notifications.hbs
    partials/members_plan_free.hbs => partials/members/plan_free.hbs
    partials/members_plan_monthly.hbs => partials/members/plan_monthly.hbs
    partials/members_plan_yearly.hbs => partials/members/plan_yearly.hbs
    partials/members_subscribe_cta.hbs => partials/members/subscribe_cta.hbs

- Removed file: 
    partials/members_subscribe_alerts.hbs

Changelog Compatible with Ghost 3.37.0-3.42.x


--------------------------------
  Version 2.4.2  Nov 27th 2020
--------------------------------
∙ Added: Google Play and BandCamp icons
∙ Updated: Instructions for adding a Formspree contact form

- Added files:
    partials/icons/social/bandcamp.hbs
    partials/icons/social/googleplay.hbs

- Changed files:
    partials/services/formspree.hbs
    partials/footer_icons.hbs
    package.json

--------------------------------
  Version 2.4.1  Nov 20th 2020
--------------------------------
∙ Restored: Custom notifications
∙ Updated: English and Polish translations

- Added file:
    partials/members_notifications.hbs

- Changed files:
    assets/css/screen.css
    locales/en.json
    locales/pl.json
    default.hbs
    package.json

--------------------------------
  Version 2.4.0  Nov 5th 2020
--------------------------------
∙ Added: Support for 'Name' field in 'Subscribe' and 'Sign-up' page
∙ Updated: English and Polish translations
∙ Removed: Custom notifications
∙ Small bug fixes and performance improvements

- Changed files:
    assets/css/screen.css
    locales/en.json
    locales/pl.json
    partials/loop_item.hbs
    partials/post_share.hbs
    partials/slider.hbs
    custom-contact.hbs
    custom-sign-in.hbs
    custom-sign-up.hbs
    custom-subscribe.hbs
    author.hbs
    default.hbs
    post.hbs
    tag.hbs
    package.json

- Removed file:
    partials/members_notifications.hbs

Changelog Compatible with Ghost 3.10.0-3.36.0


--------------------------------
  Version 2.3.3  Jul 15th 2020
--------------------------------
∙ Added: Notification if the magic link has expired
∙ Small bug fixes and performance improvements

- Changed files:
    assets/css/screen.css
    locales/en.json
    locales/pl.json
    partials/members_notifications.hbs
    package.json

--------------------------------
  Version 2.3.2  Jul 4th 2020
--------------------------------
∙ Fixed: Issue with access to posts when members function is disabled

- Changed files:
    post.hbs
    page.hbs
    package.json

--------------------------------
  Version 2.3.1  Jun 22th 2020
--------------------------------
∙ Fixed: The height of the images in the post content

- Changed files: 
    assets/css/screen.css
    package.json

--------------------------------
  Version 2.3.0  Jun 8th 2020
--------------------------------
∙ Added: Line.me icon
∙ Updated: Google fonts to API v2
∙ Removed: Outdated prefixes from screen.css
∙ Removed: foreach.js script from default.hbs
∙ Small bug fixes and performance improvements

- Added file:
    partials/icons/social/line.hbs

- Changed files: 
    assets/css/screen.css
    partials/services/google_fonts.hbs
    partials/header.hbs
    partials/footer_icons.hbs
    default.hbs
    package.json 

--------------------------------
  Version 2.2.1  Apr 11th 2020
--------------------------------
∙ Added: Buy me a coffee, Etsy, Notion, Riot, TikTok, Quip icons
∙ Updated: Kickstarter, Gitlab, Facebook, Reddit icons
∙ Small bug fixes and performance improvements

- Added files:
    partials/icons/social/buymeacoffee.hbs
    partials/icons/social/etsy.hbs
    partials/icons/social/notion.hbs
    partials/icons/social/quip.hbs
    partials/icons/social/riot.hbs
    partials/icons/social/tiktok.hbs

- Changed files: 
    assets/css/screen.css
    partials/footer_icons.hbs
    partials/icons/social/facebook.hbs
    partials/icons/social/gitlab.hbs
    partials/icons/social/kickstarter.hbs
    partials/icons/social/reddit.hbs
    package.json 

--------------------------------
  Version 2.2.0  Mar 10th 2020
--------------------------------
∙ Added: Ability to edit billing info on the member's account page
∙ Added: Custom currency support for member's plans
∙ Added: Support for price helper
∙ Added: Support for 'visibility' property check to #has helper
∙ Updated: The search function now includes also 'plaintext' field
∙ Updated: English and Polish translations
∙ Updated: reframe.js to v2.2.6
∙ Updated: clipboard.js to v2.0.6
∙ Small bug fixes and performance improvements

- Changed files: 
    assets/css/screen.css
    assets/js/post.js
    partials/locales/en.json
    partials/locales/pl.json
    partials/members_cta.hbs
    partials/members_plan_free.hbs
    partials/members_plan_monthly.hbs
    partials/members_plan_yearly.hbs
    partials/search.hbs
    custom-account.hbs
    custom-contact.hbs
    package.json 

Changelog Archival


--------------------------------
  Version 2.1.0  Dec 20th 2019
--------------------------------
∙ Added: Ability to cancel or continue subscription from member's account page
∙ Added: Some subscription specific data on the account page
∙ Updated: English and Polish translations
∙ Small bug fixes and performance improvements

- Changed files: 
    assets/css/screen.css
    partials/locales/en.json
    partials/locales/pl.json
    custom-account.hbs
    package.json 

--------------------------------
  Version 2.0.1  Dec 7th 2019
--------------------------------
∙ Added: Support for secondary navigation
∙ Removed: 'Invalid' status from subscribe forms
∙ Small bug fixes and performance improvements

- Changed files: 
    assets/css/screen.css
    partials/footer.hbs
    partials/members_subscribe_alerts.hbs
    custom-membership.hbs
    package.json 

--------------------------------
  Version 2.0.0  Nov 13th 2019
--------------------------------
∙ New: Support for members & subscriptions
∙ New: Custom sign-in and sign-up page
∙ New: Custom account page
∙ New: Custom membership page
∙ New: Pricing tables in custom account and membership page
∙ New: Custom Call-to-Action for post/page with options: members/paid-members
∙ New: Sign-in, sign-up and checkout notifications
∙ Updated: English and Polish translations
∙ Small bug fixes and performance improvements

- Added files:
    partials/loop_item.hbs
    partials/members_cta.hbs
    partials/members_login_panel.hbs
    partials/members_plan_free.hbs
    partials/members_plan_monthly.hbs
    partials/members_plan_yearly.hbs
    partials/members_subscribe_cta.hbs
    custom-account.hbs
    custom-membership.hbs
    custom-sign-in.hbs
    custom-sign-up.hbs

- Changed files:
    assets/css/screen.css
    partials/services/google_font.hbs
    partials/locales/en.json
    partials/locales/pl.json
    partials/footer.hbs
    partials/header.hbs
    partials/loop.hbs
    partials/load_more.hbs
    partials/members_notifications.hbs
    partials/navigation.hbs
    partials/slider.hbs
    custom-contact.hbs
    custom-subscribe.hbs
    default.hbs
    page.hbs
    post.hbs
    error.hbs
    package.json

- Renamed file:
    partials/social_icons.hbs => footer_icons.hbs

--------------------------------
  Version 1.3.0  Oct 27th 2019
--------------------------------
∙ New: Compatibility with Ghost 3.0
∙ Improved: Custom subscribe page now shows own title and image
∙ Updated: Changed the search function behavior from "plaintext" to "excerpt" 
∙ Updated: Replaced labs/subscriptions with members/subscription feature
∙ Updated: statusCode helper replaces deprecated code helper
∙ Updated: English and Polish translations
∙ Small bug fixes and performance improvements

- Added files:
    partials/members_notifications.hbs
    partials/members_subscribe_alerts.hbs
    custom-subscribe.hbs

- Changed files:
    assets/css/screen.css
    partials/locales/en.json
    partials/locales/pl.json
    partials/search.hbs
    custom-contact.hbs
    default.hbs
    error.hbs
    footer.hbs
    package.json

- Removed files:
    partials/subscribe_form.hbs
    subscribe.hbs 

--------------------------------
  Version 1.2.1  Oct 8th 2019
--------------------------------
∙ Fixed: Issue with blank space when there is no slider in home view
∙ Small bug fixes and performance improvements

- Changed files:
    assets/css/screen.css
    package.json

--------------------------------
  Version 1.2.0  Sep 28th 2019
--------------------------------
∙ Added: Support for "display=swap" parameter for Google fonts
∙ Added: Support for responsive tables
∙ Added: Services folder in partials folder
∙ Added: google_fonts.hbs partial template in services folder
∙ Added: >google_fonts partial reference in default.hbs, custom-contact.hbs, error.hbs and subscribe.hbs
∙ Improved: disqus.hbs moved to services folder
∙ Improved: formspree.hbs moved to services folder
∙ Improved: #if pagination.pages helper replaces else in default.hbs
∙ Removed: "slider-trigger" from slider.hbs
∙ Fixed: Issue with slider while dragging in iOS 13
∙ Small bug fixes and performance improvements

- Added file:
    partials/services/google_fonts.hbs

- Moved files:
    partials/post_disqus.hbs => partials/services/disqus.hbs 
    partials/formspree.hbs => partials/services/formspree.hbs 

- Changed files:
    assets/css/screen.css
    assets/js/index.js
    partials/slider.hbs
    default.hbs
    post.hbs
    custom-contact.hbs
    error.hbs
    search.hbs
    subscribe.hbs
    package.json

--------------------------------
  Version 1.1.6  Aug 28th 2019
--------------------------------
∙ New: Custom contact page with Formspree
∙ Added: Support for bookmark card
∙ Updated: English and Polish translations
∙ Small bug fixes and performance improvements

- Added file:
    partials/formspree.hbs
    custom-contact.hbs

- Changed files:
    assets/css/screen.css
    assets/js/post.js
    locales/en.json
    locales/pl.json
    package.json

--------------------------------
  Version 1.1.5  May 9th 2019
--------------------------------
∙ Added: Support for code cards with captions
∙ Fixed: Issue with nested get helper in slider.hbs
∙ Updated: Slack icon

- Changed files:
    assets/css/screen.css
    assets/js/index.js
    partials/slider.hbs
    partials/icons/social/slack.hbs
    package.json

--------------------------------
  Version 1.1.4  Apr 3rd 2019
--------------------------------
∙ Added: Weibo icon has been added to the social-icons.hbs
∙ Updated: @site helper replaces deprecated @blog helper
∙ Updated: @site.lang helper replaces deprecated lang helper
∙ Updated: Unsplash icon
∙ Improved: Custom tags page now shows all tags
∙ Small bug fixes and performance improvements

- Added file:
    partials/icons/social/weibo.hbs

- Changed files:
    assets/css/screen.css
    assets/js/index.js
    partials/footer.hbs
    partials/header.hbs
    partials/post_disqus.hbs
    partials/search.hbs
    partials/search_tags.hbs
    partials/social_icons.hbs
    partials/icons/social/unsplash.hbs
    author.hbs
    custom-tags.hbs
    default.hbs
    error.hbs
    subscribe.hbs
    tag.hbs
    package.json

--------------------------------
  Version 1.1.3  Feb 2nd 2019
--------------------------------
∙ New: Custom tags page
∙ Improved: Better protection against blank characters for the Content API Key
∙ Updated: English and Polish translations
∙ Small bug fixes and performance improvements

- Added file:
    custom_tags.hbs

- Changed files:
    assets/css/screen.css
    locales/en.json
    locales/pl.json
    partials/search.hbs
    partials/search_tags.hbs
    package.json

--------------------------------
  Version 1.1.2  Jan 29th 2019
--------------------------------
∙ Fixed: Issue with displaying pages marked as featured in the slider
∙ Updated: English and Polish translations
∙ Small bug fixes and performance improvements

- Changed files:
    assets/css/screen.css
    assets/js/index.js
    locales/en.json
    locales/pl.json
    partials/search_icon.hbs
    partials/slider.hbs 
    default.hbs
    package.json

--------------------------------
  Version 1.1.1  Jan 19th 2019
--------------------------------
∙ Updated: The search function requires the Content API Key (check the documentation)

- Added file:
    partials/search_api_key.hbs

- Changed files:
    assets/css/screen.css
    partials/search.hbs
    package.json

--------------------------------
  Version 1.1.0  Jan 18th 2019
--------------------------------
∙ Updated: Content API v2 replaces Public API v0.1
∙ Updated: Tags: #blog-[color], #blog-detail-[color] – must be added to the post to work properly (check the documentation)

- Changed files:
    assets/css/screen.css
    partials/slider.hbs
    package.json

--------------------------------
  Version 1.0.2  Jan 18th 2019
--------------------------------
∙ New: Search function
∙ New: Custom subscribe page
∙ New: Custom error page
∙ Updated: English and Polish translations
∙ Small bug fixes and performance improvements

- Added files:
    partials/icons/blog/arrow_left.hbs
    partials/icons/blog/close.hbs
    partials/icons/blog/search.hbs
    partials/search.hbs
    partials/search_authors.hbs
    partials/search_tags.hbs
    partials/search_icon.hbs
    error.hbs

- Changed files:
    assets/css/screen.css
    locales/en.json
    locales/pl.json
    partials/load_more.hbs
    partials/navigation.hbs
    partials/slider.hbs
    partials/subscribe_form.hbs
    subscribe.hbs  
    default.hbs
    package.json

--------------------------------
  Version 1.0.1  Jan 17th 2019
--------------------------------
∙ Fixed: Issue with "featured" label when the post has no tags

- Changed files:
    assets/css/screen.css
    partials/slider.hbs
    post.hbs
    package.json

--------------------------------
  Version 1.0.0  Jan 7th 2019
--------------------------------
∙ Released